Meet the Mistypoint Munsterlanders
Since we have finally had some dogs retire and new dogs are now coming on to the scene I have split this page into four sections. For the dogs achievements, information, pedigrees and more photos click on the dogs name to go to their individual page, or click on the picture to see it full size.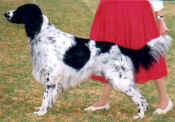 Aust Grand Champion Mistypoint Falcons Image CD ADM JDX ET
Kyle likes to follow in the footsteps of his mother, Britta. He is the first male Munsterlander to be granted the title of Australian Grand Champion. He is a multi best exhibit in group (all breeds champ show), multi class in group and class in show winner. But don't be fooled by his looks, he is also a top scoring dog in trial (all breeds obedience trial) and has placed in Agility trials at all levels (novice, open & masters). For three years Kyle was also a "Caring Companion Dog" visiting Aged Nursing Homes.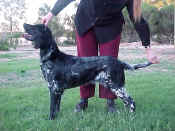 Hermes Gracewing Zara (Imp NZ)
Zara joined us in January 2002, she was imported to Australia by Schimmelbeck Kennels in 1999. Zara brings with her a new bloodline from a top working German kennel plus she is a grand-daughter of NZ Ch Seelenmeyer Falcon (Imp Aus) who is Britta's brother. Thus allowing us to bring in a new bloodline plus line breed to the existing line. Zara whelped a litter to Kyle in September 2002. In 2003 she will recommence her showing career and will commence training in Agility to hopefully take after her dam NZ Ch Flique Flaque of Hermes ADX who was the first Munsterlander in the world with an agility title.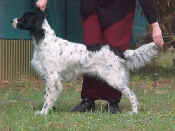 Ch Mistypoint Double Dare AD
Freya at just 12 months she had over 150 Challenge points including one Royal Challenge, and a runner up best of breed under a German judge at only 7 months against tough adult competition. At 18 months she gained her Australian title which included several best of breeds. In 2002 she commenced trialling in Agility, in her second trial she placed first out of 25, gaining her AD in only 9 trials later. In her spare time Freya was also part of the Caring Companion Scheme, visiting Aged Nursing Homes, prior to us running out of time in the day. In 2003 I hope to try her at obedience.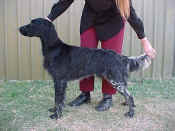 Ch Mistypoint Storm Warning
Storm was a singleton pup born in 2001. He started obedience & agility training at 6 months but took some time off to concentrate on his showing career. In September 2002 he gained his Australian Champion title. In 2003 he will go back to his training, whilst entering in selected shows. Storm also participated in the Caring Canine Scheme for several months.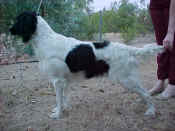 Mistypoint Twice As Nice
Lily is the the rascal of the family, only shown rarely she has a reserve Royal challenge to her name plus she is only one challenge short of an Aust Ch title which we hope to get during 2003. Lily also participated in the Caring Companion Scheme.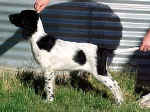 Mistypoint Astime Goesby
Kayne is one of Kyle & Zara's litter, he will start his show career during 2003.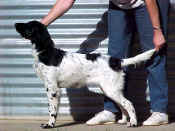 Mistypoint Nik Ov Time
Nikki is one of Kyle & Zara's litter, she will start her show career during 2003.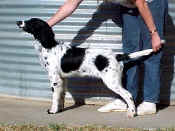 Mistypoint Time Aftatime
Maddi is one of Kyle & Zara's litter, she will start her show career during 2003.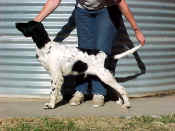 Mistypoint Time Machine
Merlin is one of Kyle & Zara's litter, although he will not be owned by me I have the pleasure of campaigning him during 2003. In late 2003 he will go to live with his new owners.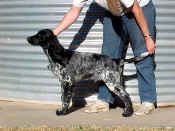 Mistypoint Prime Time
Kash is one of Kyle & Zara's litter, he also will not be owned by me but for a short time will be campaigned by me.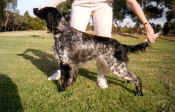 Australian Grand Champion Seelenmeyer Fantasia CD ADM JD ET
Our foundation bitch Britta is the first Australian Grand Champion of the breed, she has also competed successfully in Obedience, Retrieving (simulated retrieving trials) and Agility Trials, gaining the first AD & ADX title for a Munster in Australia. A classic example of "Beauty with Brains". Britta was involved in the "Caring Companions Scheme" where dogs visit Aged Care facilities for pets as therapy.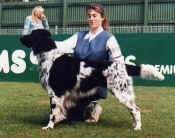 Australian Grand Champion Mistypoint Black Raven ET
Alex gained his Grand Champion title in May 2000, he is best in group and multi runner up in group winner (all breeds open shows), multi class in group and in show winner (all breeds Champ & Open shows). He is trained in obedience to novice level and competed in agility at Novice level until an injury retired him. Alex is the "clown" of the family and likes to keep all spectators amused, with his overenthusiastic style.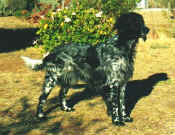 Ch Mistypoint Peregrine ET
Ebony although only shown rarely was a multiple class in group winner (All Breeds Champ & Open shows), multiple best of breed winner and Reserve Royal Challenge winner. She gained her Endurance Test title in 1999.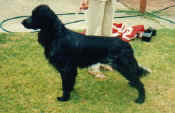 Ch Seelenmeyer Erik ET
Jasper was my first Munsterlander, sadly only 3 months short of his 14th birthday we lost our boy, he will be sadly missed. He enjoyed his show career, whilst he attempted to gain an obedience title.....but the word "STAY" got in the way and at 5 years of age he retired, to let his relatives show him how it should have been done. With over 200 CC points to his name Jasper gained several reserve Royal Challenges. He gained his ET in 1993.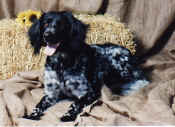 T. Ch Mistypoint Black Kite A.O.C. ET
Marsha is owned and trained by Ros Kumela, She is the first Australian Obedience Champion Large Munsterlander bitch joining her housemate Dual Ch Seelenmeyer Curt ET (Baron) who was the first Australian Obedience Champion and Dual Champion for the breed. Marsha had to gain her Utility Dog title and Tracking Dog Excellent titles to become an A.O.C.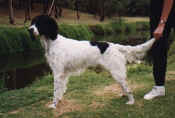 Ch Mistypoint Lady Hawk
Kellie is owned by Joan Edwards, again she was rarely shown but in her short show career, she gained her Australian Champion title and was a class in group winner along the way. She had one litter in 1999 from which she has gained her first Australian Champion progeny. Now she is retired and spends her days as a companion to my mother.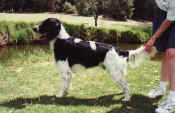 Ch Mistypoint Eagle Hawk
Eagle is loved and owned by Harold and Dianne Bodein. He was shown as a youngster and gained his Australian Champion title. Harold trained Eagle at dog obedience to intermediate level. Now days he enjoys going on holidays with his owners.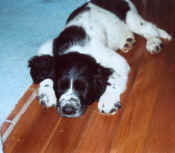 Mistypoint Aimn For Time
Aiden is one of the new pups living in sunny Queensland with his new owner Anne Forrest. Anne hopes to do obedience & agility with her new boy with the odd show thrown in.
Mistypoint Almost Thyme
Tula is one of the new pups living on a huge 17 acres in Victoria with a Pointer & an Irish Red & White Setter. Her new owners Kevin & Katherine Eke had always been interested in Munsters since when they lived in the UK. Now they have one of their own.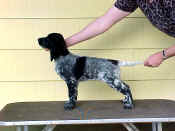 Mistypoint Minuet
Winnie is one of the new pups now living in Tasmania the apple isle with another Munster Ch Rheinmunst Royal Solute "Sol". Her new owner June Gee plans to show her new girl we nicknamed "little friendly" as a baby.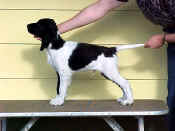 Mistypoint Tempo
Tallis is one of the new pups, his new owners Ade & Jane Peace owned Jasper's sister Tilley, Tallis is full of energy and taking well to his new friends Cormack an Aussie Shepherd & Jessie a Staffy.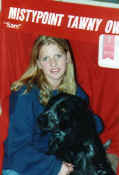 Ch Mistypoint Tawny Owl
Sam is owned by Karen Todd, he was shown to his title by Karen and has been trained to grade 4 at obedience. Now retired he spends his time with Karen's Saint Bernards and an Italian Spinone.