Aust Champion Mistypoint Eagle Hawk
"Eagle" Owned by Harold & Dianne Bodein
Whelped 12th May 1993


Eagle's Pedigree

Cesar Vom Birkengrund (GMY)

Eng Ch Axel Von Esterfeld Of Raycris (UK - IMP GMY)

Edda Amisia (UK)

Aust Ch Raene The Kqrac Falcon JW (IMP UK)

Plantagenets Hugo (UK)

Eng Sh Ch Datroy Ovation Of Raene (UK)

Meadlands Frederica Of Gavalie (UK)

Farro Von Der Langen Welde (GMY)

Aust Ch Barry Vom Entenschnabel JW (IMP GMY)
Anja Vom Kranemeer (GMY)
Aust Grand Ch Seelenmeyer Fantasia CD ADM JD ET
Eng Ch Ravenshead Sacha Of Raycris (UK)
Aust Ch Raene Passion (IMP UK)
Bonney Von Wenningfeld Of Jemas (GMY)


Eagle's achievements:

Gained his Australian Champion title April 1995
Multiple best of breed winner at Championship shows
Obedience trained to intermediate level
Loving companion to Harold & Dianne

Eagle as a baby stacked and sitting.
Eagle as a puppy relaxing and playing.
Eagle stealing a puppy rug Eagle at 5 months.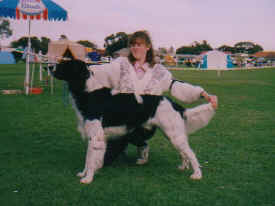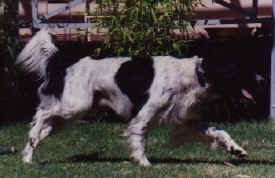 Eagle at 16 months Eagle showing some speed.
Eagle out for some exploration Showing off his tail
Eagle at 6 years on holidays down the beach with his owners.