Aust Grand Champion Mistypoint Black Raven ET
"Alex"
Whelped 12th May 1993 - Hip Score 5:5 Total 10


Alex's Pedigree

Cesar Vom Birkengrund (GMY)

Eng Ch Axel Von Esterfeld Of Raycris (UK - IMP GMY)

Edda Amisia (GMY)

Aust Ch Raene The Kqrac Falcon JW (IMP UK)

Plantagenets Hugo (UK)

Eng Sh Ch Datroy Ovation Of Raene (UK)

Meadlands Frederica Of Gavalie (UK)

Farro Von Der Langen Welde (GMY)

Aust Ch Barry Vom Entenschnabel JW (IMP GMY)
Anja Vom Kranemeer (GMY)
Aust Grand Ch Seelenmeyer Fantasia CD ADM JD ET
Eng Ch Ravenshead Sacha Of Raycris (UK)
Aust Ch Raene Passion (IMP UK)
Bonney Von Wenningfeld Of Jemas (GMY)


Alex's achievements:

Best Exhibit in Group (All Breeds Open Show)
Multi Runner Up to Best Exhibit in Group (All Breeds Open Shows)
Multi Class in Group (All Breeds Championship & Open Shows)
Class in Show (All Breeds Open Show)
Gained his Australian Champion title in May 1994 (a week before his first birthday)
Gained his Australian Grand Champion title in May 2000
Over 120 dog challenge certificates - including BOB's in 3 states and 1 territory of Australia
Dog Challenge Melbourne Royal 96 (BOB) (second largest entry of Munsterlanders in Australia) Dog Challenge Canberra Royal 99 (BOB) & 2000 (BOB)
Reserve Dog Challenge Adelaide Royal 94, 95 & 96, Melbourne Royal 2000 and Canberra Royal 98 (RUBOB)
Top showing Large Munsterlander 99 & 2000 - Gundog Club of SA Inc
Adelaide Royal 1996 "Best Brace" with his brother Kyle - this class is for two dogs of the same breed being handled together on one lead. This class is open to all breeds and is very competitive. The only Munsterlanders to ever win a "brace class" at a Royal.
Adelaide Royal 1996 4th place "State Bred Dog" open to any dog bred in South Australia of any breed. This class is very competitive. Alex is the only Munsterlander to have ever placed in a "mixed breed class" at a Royal show.
Alex was used a a "swap dog" at the 1999 Pal Junior Handler State Final held at the Royal Adelaide show
Passed prelim to trial in agility in September 1999
Endurance tested (20 km run)


Gained his Endurance Test (E.T.) title in June 1996


Alex as a baby Alex at the park
Alex as a puppy sitting Alex at 5 months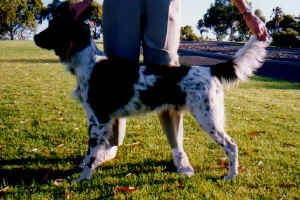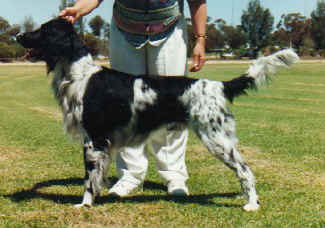 Alex at 9 months Alex at 18 months
Where's that possum? Alex just sitting around
Alex enjoying himself Alex BOB at Canberra Royal 1999
Alex after getting BOB Melbourne Royal 96 With Kyle in a brace class at the Adelaide Royal